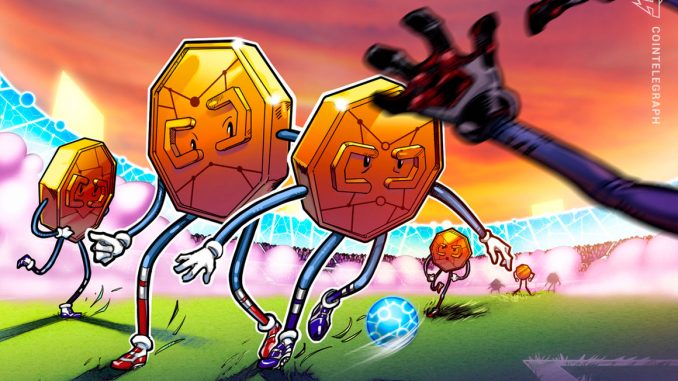 Soccer fan tokens emerged as an offshoot of the tokenization craze in cryptocurrency sometime around 2019. Essentially acting as tokenized shares of influence, fan tokens give supporters of sports organizations the chance to take part in club polls, win unique prizes, and gain a small say in club decisions which are designed to spur increased fan engagement but are often only aesthetic in nature.
But despite the seemingly superficial nature of fan tokens, their prevalence only went from strength to strength as the years went by, as major European football clubs such as Barcelona, AC Milan, Manchester City, Paris St. Germain and many more adopted the tokens.
A sizable adoption boost was witnessed across 2020 and 2021 as the fallout from the COVID-19 pandemic resulted in sports stadiums hosting games behind closed doors. European soccer's governing body, UEFA, predicted that major clubs would share losses of 8 billion euros ($9.7 billion) due to a lack of gate receipts and broadcasting revenues.
With this in mind, it perhaps makes sense to see major clubs team up with blockchain fan token platforms like Chiliz, which hosts fan token offerings via the Socios website. As reported by Reuters, Chiliz shares half of the proceeds from its token sales with its partner clubs, and the firm anticipates $200 million worth of sales throughout the rest of 2021.
Chair of the Football Supporters' Association for England and Wales, Malcolm Clarke, said clubs had undoubtedly made money from the launch of fan tokens during the course of the pandemic. But Clarke said allowing fans a cosmetic say in how clubs are operated, or, "trying to squeeze extra money out of supporters by making up inconsequential 'engagement' online polls," wasn't a good look either way.
A spokesperson for AC Milan, which launched its fan token amid the pandemic lockdown, said launching fan tokens was a strategic move designed to enhance its digital presence and "stay closer" to fans.
The overall value of the fan token market across all platforms is currently worth $260 million — a 900% increase on the figure from this time last year, according to data from FanTokenStats.
However, that statistic only tells half the story. The value of fan tokens plunged along with the rest of the crypto market after peaking in April and May, and lost more than 55% in the turmoil that followed, briefly dropping to a combined value of $228 million.
This volatility, combined with rising matchday costs in general, has left some fans feeling priced out of having their voices heard. Sue Watson, chair of West Ham United Independent Supporters Association, asked, "Why should you have to pay to have any sort of say in the club?"
Adding to season ticket costs and expensive soccer strips, Watson said fan tokens were just an example of yet more costs piling up. "It mounts up, it's not cheap," she said. Watson's comments hint at a growing trend in European soccer in particular which has seen fan costs skyrocket amid what many regard as the gentrification of what was once a working-class pastime.
Related: NBA Top Shot leads NFT explosion with $230M in sales
Acting as a further reminder of the largely superficial nature of fan tokens is the recent attempt by several major European and British football teams to form their own European Super League. The goal of forming the breakaway league ultimately failed, but no fan groups, broadcasters or advertisers were consulted regarding the league's attempted formation, let alone fan token holders.
The sports world also joined hands with nonfungible tokens in recent months, as the NFT craze hooked numerous sports organizations and brands which utilized the technology to auction unique fan experiences.
While NFT sales fell by over 90% since peaking in Q2, sports-related NFTs actually showed the most resilience to the market drop, declining by just 55%. At the time of publication, the sports-based NFT platform Sorare was among the top three apps ranked by daily sales volume, with $1.5 million sold in the past 24 hours. Its sales count over the past week stands at over 6,000, outnumbering art collectible CryptoPunk's 57 sales by some margin, according to data from NonFungible.
Source link By Cointelegraph By Greg Thomson