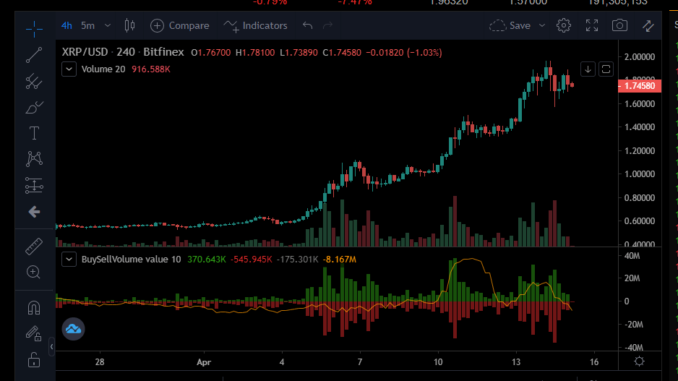 Ripple's XRP fell short of the $2 mark yesterday but shows signs of an extended run that could see it break past the resistance point
XRP is one of the best-performing cryptocurrencies of the past week. It is up by nearly 100% against the US Dollar over the last seven days. Yesterday, the XRP/USD pair rose by 2.30%, following a 22.24% jump the previous day.
XRP's rally continued in the early hours of Thursday, surging to a high of $1.96695. However, failure to break the first major resistance level at $1.9839 saw the XRP/USD pair fall to a low of $1.56077. XRP managed to steer clear of the first major support level at $1.5132, allowing it to bounce back and trade above $1.70. At the time of writing, XRP is trading at $1.746.
XRP price outlook
For the day ahead, XRP needs to start by overcoming the $1.7832 pivot level to stand the chance of bringing the first significant resistance level at $2.0210 into play. XRP's price decline coincides with that of the general market, and the cryptocurrency could use the help from the broader market if it is to break out from yesterday's high of $1.96695.
In the event of an extended market rally, the cryptocurrency could test further resistance at $2.20 levels before any potential pullback, with the second major resistance point sitting at $2.2038.
However, failure to surpass the $1.7832 pivot would allow the bears to take control and bring the first significant support level at $1.6004 into play. Unless there is a massive sell-off, XRP will most likely avoid the second major support level at $1.3626. Any potential downside could be limited by the 23.6% FIB of $1.5426.
XRP/USD 4-hour chart. Source: Coinalyze
A closer look at the XRP/USD 4-hour chart shows that the pair is trading 78% above the 100-day SMA (0.98810). The MACD line is very bullish despite the slight price decline in the past few hours. Its RSI is above 60 and is edging closer to the overbought (OB) region, suggesting that XRP is on a bullish cycle and could continue for a while.
CoinShares announces the launch of XRP exchange-traded product (ETP)
XRP could gain a boost from CoinShares announcing it launched an XRP ETP yesterday. Europe's largest digital asset investment firm said the XRP ETP would be listed under the ticker XRPL on the regulated SIX Swiss Exchange.
The news comes on the back of Ripple winning some arguments in the ongoing SEC lawsuit and could help XRP rally higher.
Source link By Hassan Maishera