Popular crypto derivatives exchange FTX's own FTT token stood out as the clear winner among exchange tokens today, after a significant run-up over the past 24 hours that pushed it to a new all-time high. The bull-run for the token comes after the US-based branch of the exchange on Tuesday announced its acquisition of the competing crypto derivatives exchange LedgerX.
At the time of writing (08:59 UTC), FTT was trading at USD 66.47, up from just over USD 50 seen 24 hours earlier, and well above its prior all-time high from May of around USD 63. The exchange token was up by just over 31% for the past 24 hours, and 34% for the past 7 days.
The sharp price rise today followed news earlier this week that the American affiliate of FTX International, FTX.US, has acquired Ledger Holdings Inc., the parent company of the LedgerX crypto derivatives exchange, for an undisclosed amount.
The acquisition is notable given that the market for regulated crypto derivatives trading in the US is much less crowded than the market for regular spot trading. LedgerX is fully regulated by the US Commodity Futures Trading Commission (CFTC) as a futures and options exchange and clearinghouse.
Meanwhile, FTX has also seen strong recent growth in the spot trading segment both internationally and in the US, helped in part by a series of regulatory obstacles that have been put in the way for Binance, the dominant player in crypto spot trading market. Among other things, regulators around the world have pushed Binance to wind down derivatives offerings in Germany, Italy, the Netherlands, and Hong Kong.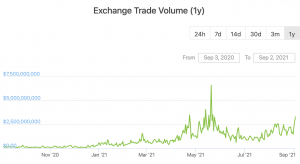 As a result of Binance's troubles with regulators, FTX has been touted by some as the next crypto exchange to challenge to dominant position Binance has enjoyed. This has also been reflected in the price of the exchanges' tokens over the past 30 days, with binance coin (BNB) currently up 48% compared to FTT's 84% gain over the same period.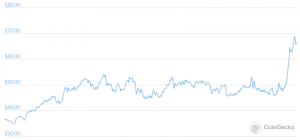 __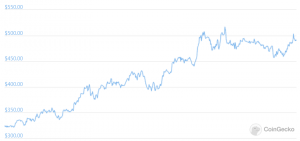 FTX was founded by former equity trader and quantitative analyst Sam Bankman-Fried in 2019. The exchange currently ranks as the world's 4th largest crypto exchange by spot trading volume, and 2nd largest by derivatives volume, according to data from CoinGecko.
____
Learn more:- FTX Confirms Its Mega Raise As Investors Bet on Crypto Future- FTX Sees 'Explosive Growth' With More than 1M Sign-Ups This Year
– FTX Boss Bankman-Fried Says He Is Worth a 'Mostly Illiquid' USD 10B
– Regulators Take Notice as Bragging Crypto Derivatives Traders Get Caught- Crypto Exchange Self-Regulation Kicks In as Regulators Start to Kick
Source link By Fredrik Vold