Bitcoin (BTC) slipped to $31,111 on Sunday, and this price was almost half of the all-time high (ATH) of $68,854 hit in mid-April. 
BTC, however, has regained some momentum to trade at $36,453 at the time of writing, according to CoinMarketCap.
Nevertheless, market analyst tweeting as the pseudonym "CryptoHamster" believed that Bitcoin needs to hold above the $34k area for the present correction to end in the short-term. The analyst explained:
"There is a fair chance for the correction to be over (at least short-term): bullish divergences on a daily time frame are about to be formed. Bitcoin price has to hold above $34k. Otherwise, divergences will be invalid."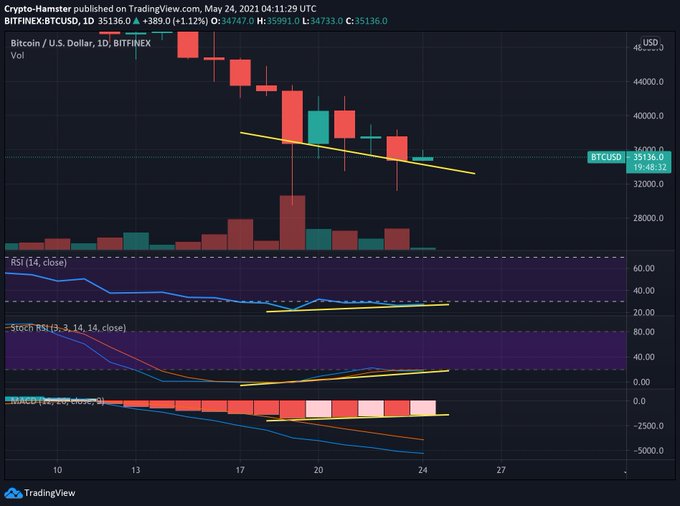 A bullish divergence happens whenever the price falls to a new low, but a technical indicator moves higher or shows bullish signals.
It, therefore, shows that bears are losing power and bulls are ready to control the market again. Furthermore, a bullish divergence illustrates the end of a downtrend.
Current market meltdown caused by panicked retail investors
According to crypto analyst Lark Davis:
"The current Bitcoin meltdown has been mostly driven by panicked retail investors. News story after news story, most of them inaccurate, have shaken the new money. Meanwhile, whales have been feasting."
Davis also pointed out that Bitcoin miners are taking advantage of the present downtrend to build more stock as they are not selling their BTC holdings. Therefore, it is showing a bullish sign.
Market analyst Carl Martin revealed that the latest correction is strongly correlated with the 2017 bull run. He explained:
"Compared to the 2017 bull market, this correction looks surprisingly similar. Especially if we compare the days after the halving, it is almost identical. This would mean that Bitcoin could get an incredible bull run in the coming weeks."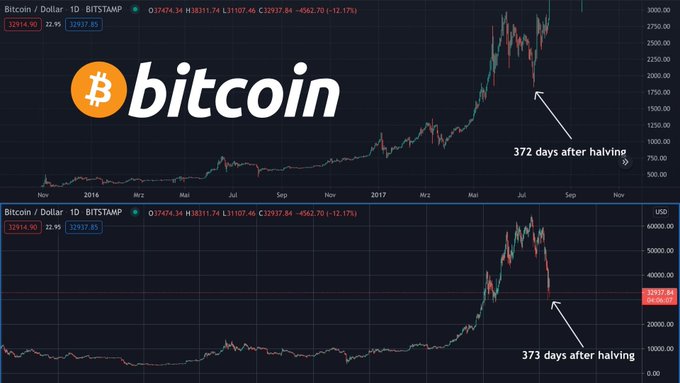 It, therefore, needs to observe whether Bitcoin will hold above the $34,000 area for the current downtrend to be terminated at least for the short-term as alluded to by CryptoHamster. 
Image source: Shutterstock
Source link By