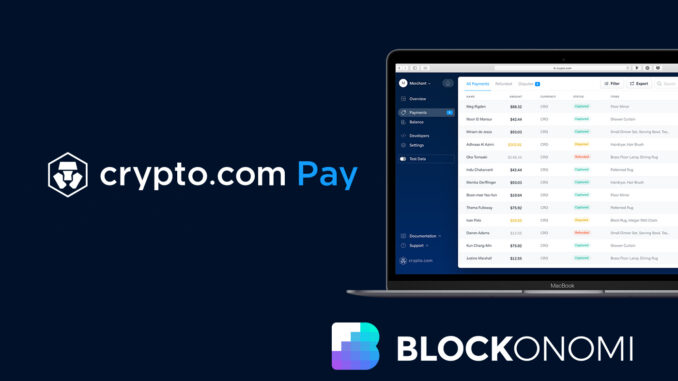 Crypto.com announced that now any Bitcoin wallet will be able to make payments to a Crypto.com Pay account. With this new innovation, retailers around the world will open their business up to any wallet that holds Bitcoin.
Bitcoin is the world's first – and still most popular – token.
It is estimated that at least 100 million people own and use Bitcoin, which means that as many as 100 million people can now use Crypto.com Pay to pay for goods and services with merchants that use the platform as a payments processor.
Now anyone who has Bitcoin can pay with Crypto.com Pay, as long as a merchant has an account with Crypto.com Pay!
Crypto.com Pay Just Got a Lot Bigger
Crypto.com Pay already has an impressive set of features for merchants that want to accept cryptos. Now, with the ability to accept payments from any Bitcoin wallet, Crypto.com Pay appears to be one of the foremost crypto payments processors globally.
As cryptocurrencies have become more popular, and more valuable, people are looking for ways to use them in day to day life. Especially for anyone who bought Bitcoin at much lower levels, using it to pay for daily needs, or other items or services, makes a lot of sense.
For merchants that use Crypto.com Pay, this new innovation makes their platform far more attractive to anyone that is holding Bitcoin. There are no more barriers to using Bitcoin with Crypto.com pay, and merchants that want direct access to cryptos should consider using it.
A New Market for Payments
While Bitcoin is the most popular token – it isn't used widely in the world's most wealthy economies. This means that platforms like Crypto.com Pay have a long way to go before they are being used at anywhere near a capacity level.
Bitcoin may not be a widely used payment method at the moment – but that is changing. In places where fiat currency isn't seen as being especially safe, cryptos have become extremely popular. In addition, Bitcoin is a truly global currency that operates without borders.
Crypto.com Pay has created a way for merchants to enter this global economy in a matter of minutes, and accept payment from anyone, person or company, that has Bitcoin in a wallet.
Crypto.com is Committed to Delivering Responsible Excellence
Bitcoin has come under fire for being "not green" and using a lot of power. While this is a nuanced argument, as a substantial amount of the power used would be almost certainly wasted otherwise, Crypto.com wants to be a part of the solution.
According to Crypto.com,
"Crypto.com is proud to be a leader in the industry, having committed to becoming carbon negative in the next 18 months. Crypto.com will offset more carbon than is generated by all activities across the company's platforms, offering users and the industry a path towards more energy-efficient crypto."
Crypto.com is also commuted to being a fully transparent, and trustworthy corporate citizen. Many entities in the crypto ecosystem simply don't offer the kind of dedication to security that Crypto.com does.
Crypto.com states that,
"Crypto.com is built on a solid foundation of security, privacy and compliance and is the first cryptocurrency company in the world to have ISO/IEC 27701:2019, CCSS Level 3, ISO27001:2013 and PCI:DSS 3.2.1, Level 1 compliance, and independently assessed at Tier 4, the highest level for both NIST Cybersecurity and Privacy Frameworks."
In addition to Crypto.com Pay, Crypto.com also offers a MCO Visa Debit Card that allows crypto holders to spend their tokens as cash, and also an advanced exchange infrastructure which offers very attractive trading terms to its clients.
To learn more about Crypto.com Pay, or all the services that Crypto.com offers, just click here for more details!
Source link By Nicholas Say