What a week! Even more so than weeks prior. As the Cryptoverse was hard at work debunking Elon Musk's BTC criticism, with many accusing him of market manipulation, markets turned super-red in a flash crash, for which insiders gave several reasons, and BTC nearly tested USD 30K. And while many remain bullish, others warn that choppy waters could be ahead for a few weeks as new entrants are panic-selling. Tether and some other stablecoins took a brief plunge below USD 0.9, while skeptics remain unconvinced by Tether's revealed numbers. Meanwhile, Polygon flipped ethereum in daily transactions, while an 18-month-long threat for Ethereum was revealed following a released fix, and though Vitalik Buterin burned nearly all SHIB he had, keeping some for charity, he will not get a tax write-off on his SHIB donation to India's Crypto COVID Relief Fund. Meanwhile, BlockFi seems to have made a clerical error that ended up in payments of over BTC 700, while two more BSC-based projects reported incidents.
In the world of regulations: no, China didn't ban bitcoin again, and India may be set to scrap talk of a ban and go for regulating crypto. In South Korea, the government continued to scale back the anti-crypto rhetoric, and the crypto policy has been placed at the top of the government's agenda. In China, the police launched a campaign meant to help wipe out crypto scams, and internet café owners are turning their businesses into crypto mining centers because of social distancing measures. In America, Paxos, Protego, and Anchorage have faced 'regulatory volatility'. In the meantime, SoftBank has had an active crypto May so far, Block.one will upgrade Voice from a fungible to an NFT-based social platform, Status is planning to enable crypto-to-crypto payments on its Keycard, while developing a tool for crypto-native communities, and top ten chess players will compete for USD 100K worth of BTC.
And now, give it up for your carefully selected and democratically elected jokes.__________
Hiiii, Crypto Twitter! Here's what caused the dip that crashed.
__
Or maybe just this.
__
And yesterday, and today, and tomorrow.
__
Christie's? Sotheby's? Justin? Anyone?
@inversebrah .0000001 … this 7 figures right?

— Chadwick VonApeinheimer (@ChadwickVonApe)
__
The hedge of last resort.
__
One side of Crypto Twitter this week.
just setting up my twttr

— jack (@jack)
__
The other side of Crypto Twitter this week.
just setting up my twttr

— jack (@jack)
__
Let's flip the flippening!
@BTCGandalf Ethereum progress to flip the value of all the toilet paper in the world. ▓▓▓▓▓▓▓▓▓▓▓▓░░░ 80%

— Bullish DingDong (@DingDong3001)
__
Idea – counter idea.
just setting up my twttr

— jack (@jack)
__
But he appears to be having some difficulty there.
just setting up my twttr

— jack (@jack)
__
He is said to be a genius after all.
just setting up my twttr

— jack (@jack)
__
Provided without comment.
Crypto Traders

— CryptoChimp (@Cryptanzee)
__
What to do during a market carnage?
__
Why are we crying?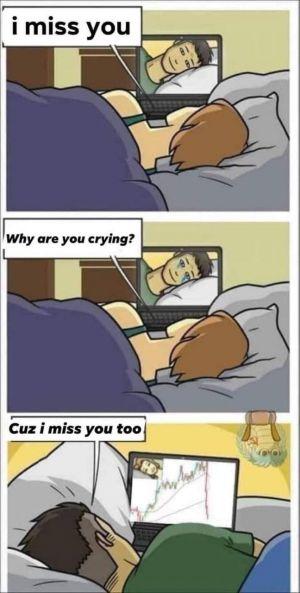 __
A tweet about The tweet.
__
But it's not as easy as it sounds – like, which dip?
pic.twitter.com/S0zA962n5T

— PracticalKapital (@invest_ez) May 19, 2021
__
Very critical.
Ok I've figured it out, Dogecoin is a shitcoin, Safemoon is a scamcoin, and Bitcoin is a boomercoin.

— litquidity (@litcapital)
__
And let's see how to handle this situation from a journalist's perspective.
__
Until hashrate do us apart.
__
And of course, here's your weekend crypto movie, you deserved it.