Binance Coin price has been in a freefall after the SEC filed a major lawsuit against Binance and its CEO. BNB coin retreated to a low of $272.6, the lowest level since March 11. It has plunged by more than 20% from the highest level this year.
SEC sues Binance and Changpeng Zhao
Binance Coin and other cryptocurrencies plunged hard on Monday and Tuesday after the SEC filed one of the most consequential lawsuits in the crypto industry. In a statement, as we wrote here, the agency sued Binance, alleging that it had defrauded customers and offered regulated products to American customers without following the law.
As expected, in most periods, cryptocurrencies tend to underperform when there is a major announcement such as this. We saw most of them plunge after the collapse of FTX and Terra and its ecosystem. Most importantly, XRP and other coins plunged after the SEC launched a lawsuit against Ripple. 
There are also concerns about the state of regulations in the industry with the US using enforcement instead of engaging the crypto industry. Analysts believe that the agency will continue being tough against digital currency companies after the collapse of FTX.
Still, this is not to say that BNB coin price will continue falling. Instead, the most recent data shows that Binance is doing well. For example, data by DeFi Llama shows that Binance has had over $1.47 billion in outflows in the past 24 hours. While this is a huge number, the company still has over $51 billion in assets.
Further, historically, many investors tend to buy the dip in crypto after big events. For example, most coins jumped this year despite the collapse of FTX.
BNB price forecast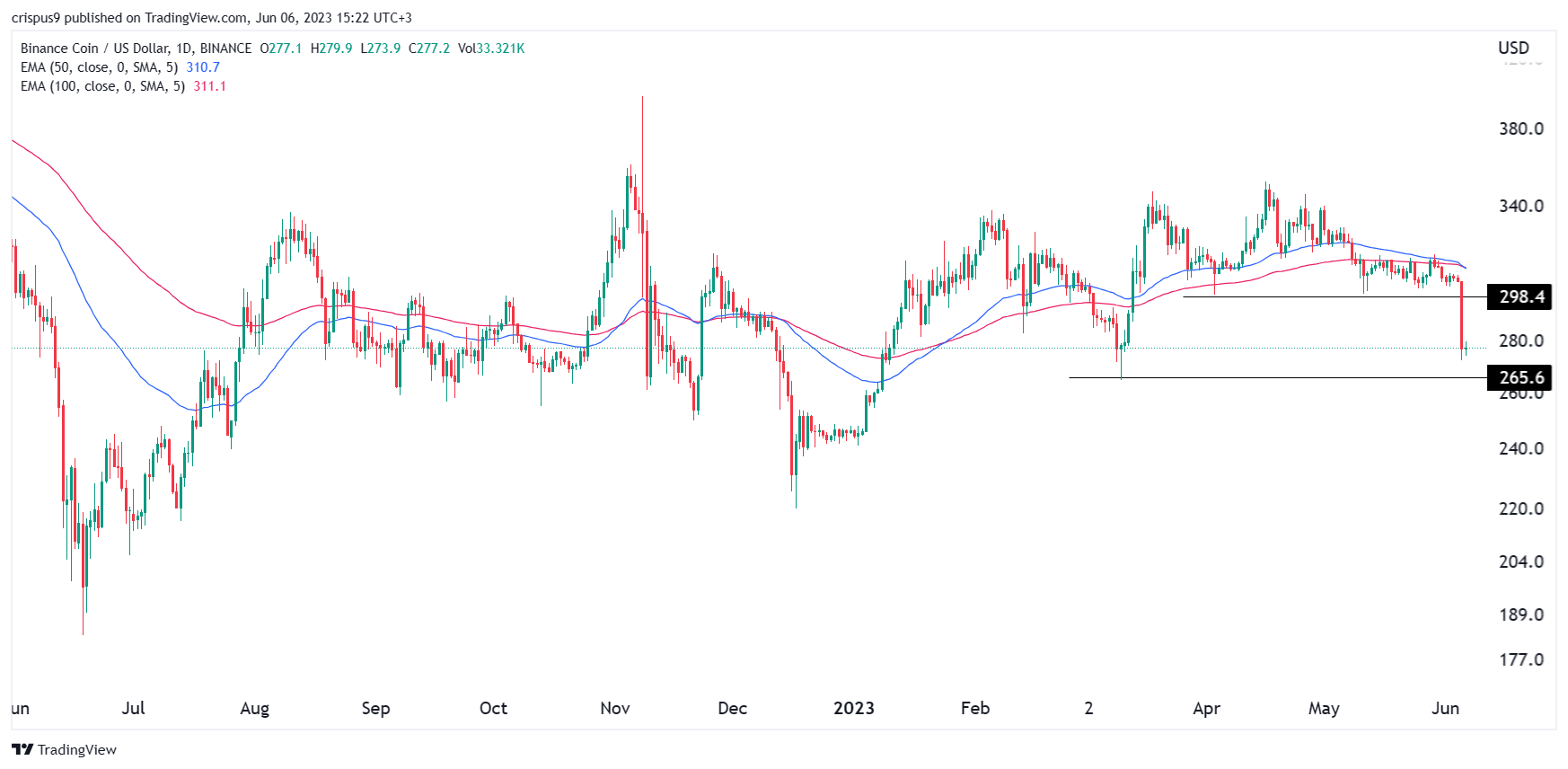 The daily chart shows that the Binance Coin price has been in a slow bearish trend in the past few days. This sell-off intensified after the SEC lawsuit. As it plunged, the coin crashed below the key support level at $298.4, the lowest point on May 12th.
Binance Coin retreated below all moving averages and is slightly above the key point at $265.6. Therefore, I suspect that the coin will remain under pressure this week and then bounce back as the lawsuit fades. As we have seen with XRP, it is possible for a coin to rise despite the lawsuit. The initial level to watch will be at $265.
How to buy Binance Coin
Binance
Binance is one of the largest cryptocurrency exchanges in the world. It is better suited to more experienced investors and it offers a large number of cryptocurrencies to choose from, at over 600.
Binance is also known for having low trading fees and a multiple of trading options that its users can benefit from, such as; peer-to-peer trading, margin trading and spot trading.
Buy BNB with Binance today
Swapzone
Swapzone is a crypto exchange aggregator that operates as a gateway between the cryptocurrency community and exchange services. Swapzone aims to provide a convenient interface, safe user flow, and crystal-clear data for users to find the best exchange rates among the whole cryptocurrency market.
Buy BNB with Swapzone today
Source link By Crispus Nyaga