Back on March 12, 2020, Bitcoin (BTC) shed off more than 50% of its value to trade at $3,800 as the coronavirus (COVID-19) pandemic continued wreaking havoc across the globe. 
This day was often referred to as 'Black Thursday' as the financial market experienced a sharp price drop due to the uncertainty for the future from the investors based on the pandemic's grappling effects.
Santiment revealed that the latest correction in the market has made Bitcoin's average 30-day trader returns slip to lows not seen since Black Thursday. The on-chain metrics provider explained:
"Bitcoin's average trader returns haven't dipped this low since the Covid19-driven Black Thursday event back in March 2020."
Bitcoin is experiencing panic selling
BTC has been experiencing panic selling, and this trend is being caused by new market entrants, as acknowledged by crypto data provider Glassnode. 
On May 19, BTC fell to around $30K, resulting in the biggest single-day drop of price, up to 30%. The price level of $30K was close to the beginning of 2021, which indicated that the year-to-date (YTD) return of long-term investors by holding BTC was almost zero.
Furthermore, this price drop became the first time BTC had dropped to the 200-MA, a key strategic indicator, since May last year as the Covid-19 pandemic continued to wreak havoc globally. 
Charles Edwards, the founder of Capriole Investments, noted that this month's BTC slump is the largest monthly drop ever.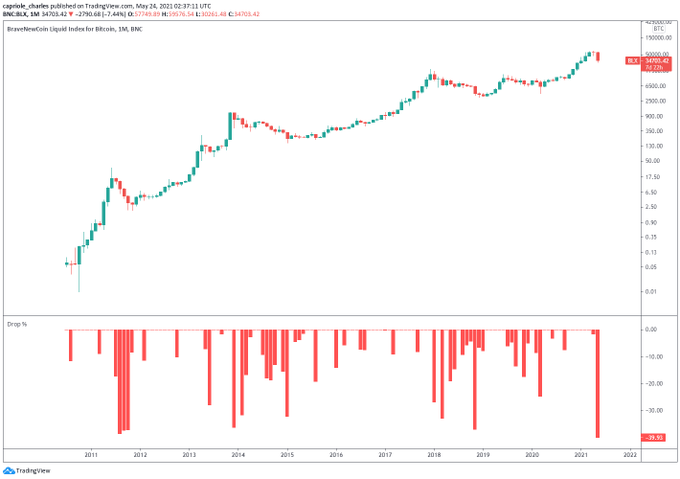 Bitcoin exchange inflows from whales are cooling off
Ki-Young Ju, CryptoQuant CEO, stated that Bitcoin exchange inflows from whales are slowing down, bullish. 
Furthermore, long-term holders are accumulating more BTC in the present downtrend.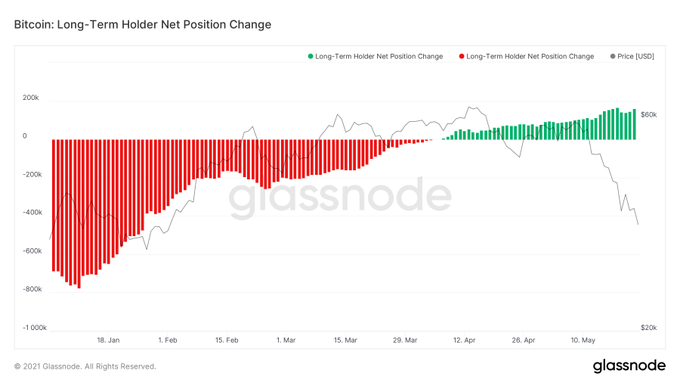 With the recent BTC correction came to the sixth-worst over the past 9 years, time will tell whether the top cryptocurrency will regain momentum to continue soaring new heights before the year closes. 
Image source: Shutterstock